- 2835 LED SMD verte -

2835LGC-570L-22
La puce LED de longueur d'onde 565nm-575nm émet une couleur LED verte. Même nous l'appelons comme LED verte, mais la couleur n'est pas vraiment la même que la couleur de la LED 520-525nm. Comme nous le savons, la LED 590 nm est une LED jaune. La LED 575 nm sera plus proche de la longueur d'onde de la LED jaune que la LED 520 nm. Nous pouvons donc également appeler cette LED 575 nm comme LED verte jaune. La LED verte de 570 nm ne sera pas aussi brillante que la LED de 520 nm, ce qui pourrait être la raison principale pour laquelle les LED vertes jaunes de 575 nm ne sont pas largement utilisées dans le projet d'éclairage LED. Mais à cause de cette couleur assez vive et du grand angle de vision, cette LED verte fonctionne parfaitement pour certains indicateurs LED. Cette LED SMD s'intègre facilement dans une maquette et ajoutera une superbe couleur à votre projet.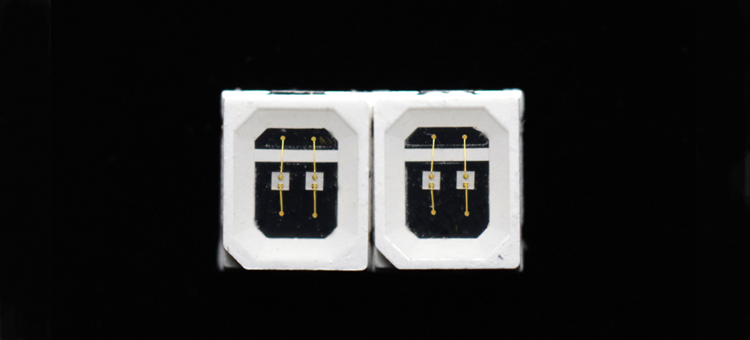 - Size: 2.8*3.5*0.8mm

- Chip Number:

- Color: Green

- Type: Surface mount device

- Chip brand: Epistar

- Polarity Mark


- Different color are available

- Different wavelength are available

- Warranty: 5 Years


- RoHS, REACH, EN62471


- Uniform light output

- Long life-solid state reliability

- Low Power consumption


-Anti UV epoxy resin package


-High temperature resistance
-Paramètres dedimension-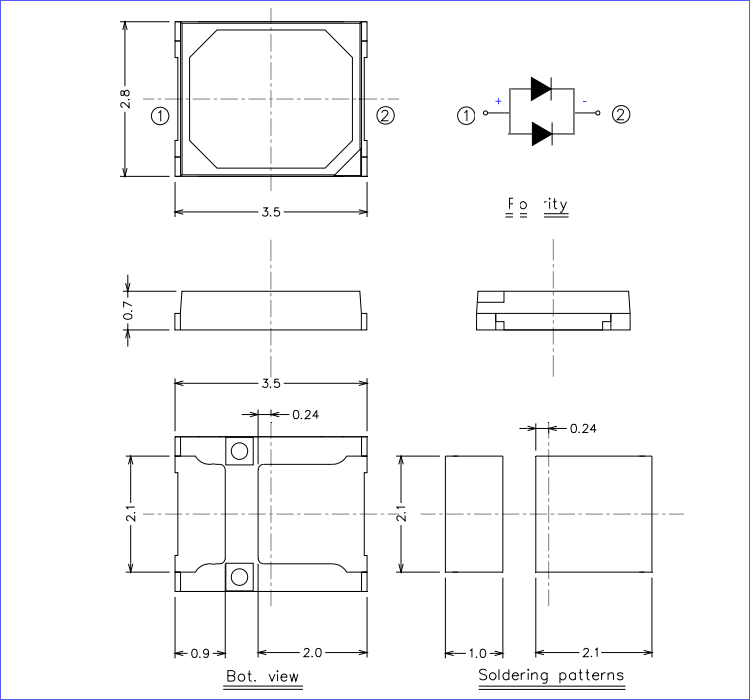 Ces boîtiers LED SMD sont également disponibles pour LED IR, LED UV, LED SMD bleue, LED SMD rouge, LED ambre ect.
- Émission de la couleur -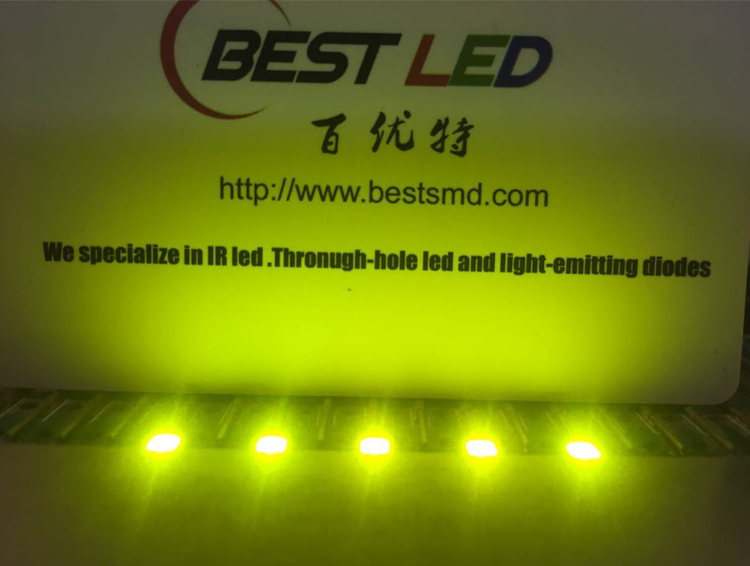 * Les couleurs de la photo ont été prises par l'appareil photo, veuillez prendre la couleur d'émission réelle en standard.
- Paramètres électriques -

Parameter

Symbol

Rating

Power Dissipation

Pd

200mw

Pulse Forward Current

IFP

200mA

Forward Current

IF

60mA

Reverse Voltage

VR

5V

Junction Temperature

Tj

115°C

Operating Tempertature

Topr

-40 - +80°C

Storage Tempertature

Tstg

-40 - +100°C

Soldering Temperature

Tsol

260°C

Electro-Static-Discharge(HBM)

ESD

3000v

Warranty

Time

2Years

Antistatic bag

Piece

4000Bag

*Pulse Forward Current Condition:Duty 1% and Pulse Width=10us.

*Soldering Condition:Soldering condition must be completed with 3 seconds at 260°C
Parameter

Symbol

Min

Typ

Max

Unit

Test Condition

Forward Voltage

VF

1.5

1.6

1.9

V

IF=60mA

Luminous Intensity

IV

1000

1500

mcd

IF=60mA

Peak Wavelength

λP

568

nm

IF=60mA

Dominant Wavelength

λd

565

570

578

nm

IF=60mA

Half Width

Dl

25

nm

IF=60mA

Viewing Half Angle

2q1/2

±60

deg

IF=60mA

Reverse Current

IR

5

uA

VR=5V

*Luminous Intensity is measured by ZWL600.

*2q1/2 is the off-axis angle at which the luminous intensity is half the axial luminous intensity.

*lD is derived from the CIE chromaticity diagram and represents the single wavelength which defines the color of the device.
- Connexion fil d'or -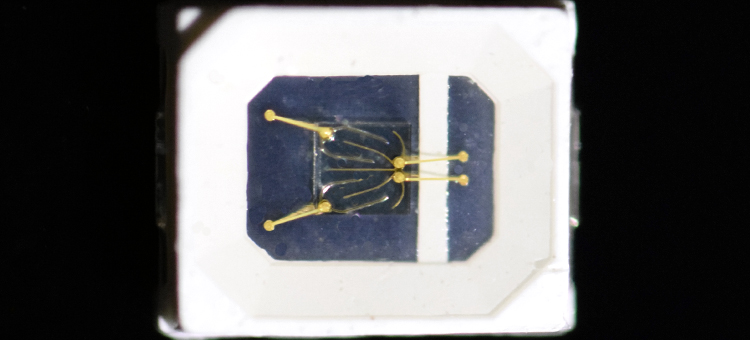 * Afin de conserver chacune des longues durées de vie des LED, l'usine BestLED utilise un fil d'or pur élevé pour la connexion du circuit intérieur
- Emballage -

* Nous l'emballons avec un emballage sous vide après l'avoir scotché en bobine
- Application -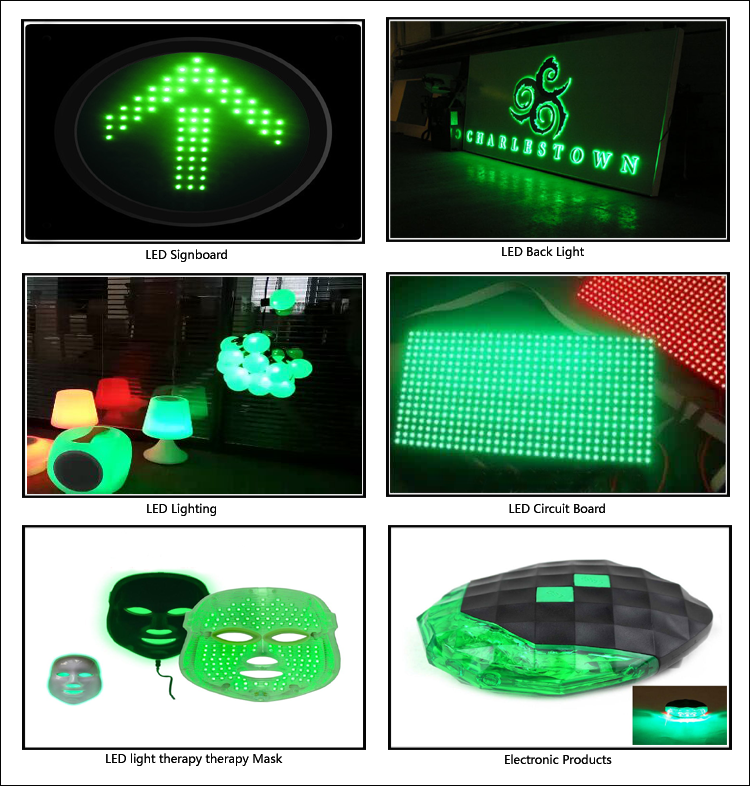 - Production -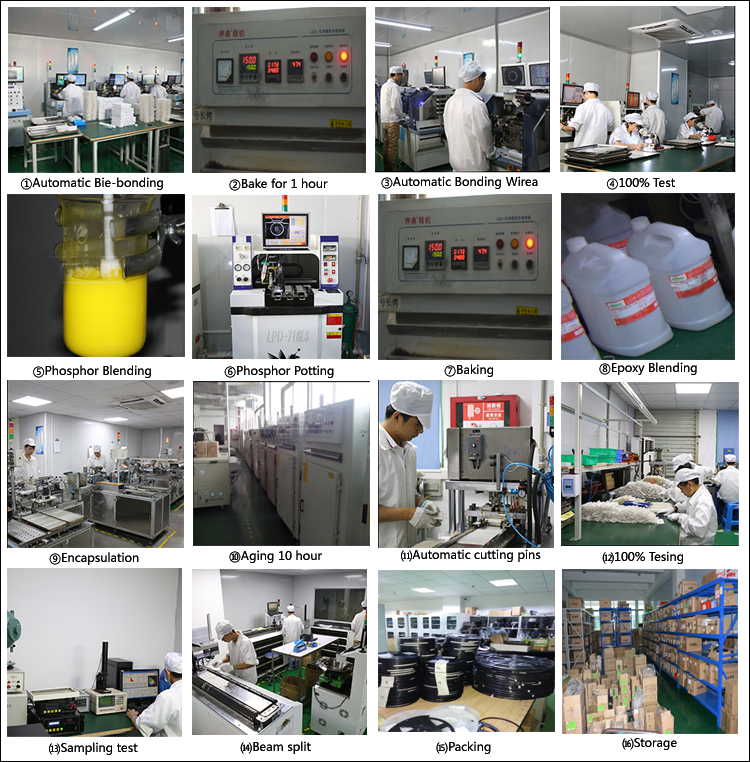 - Utilisation de l'attention par LED SMD-