- LED rouge traversante rectangulaire -
6242FRC62D3L14
234FRD est des lampes à semi-conducteurs dans un boîtier époxy rectangulaire à plomb radial. Un époxy teinté et diffus offre un contraste marche-arrêt élevé et une surface émettrice plate de haute intensité. Cette gamme de LED offre une sortie de lumière unitaire en raison d'une conception de boîtier sans bordure. Nous utilisons une puce LED rouge à double hétérojonction (DH) absorbant le substrat (AS) en aluminium et en arséniure de gallium (AlGaAs) dans un boîtier époxy rouge clair. Ensemble, ils produisent un fort rendement lumineux sur une large gamme de courants d'entraînement.La LED rectangulaire rouge à trou traversant utilise une puce LED GaAsP sur GaP rouge à haut rendement dans un boîtier époxy rouge clair.Le 234FYD fournit une puce LED GaAsP jaune sur GaP boîtier époxy jaune Le 234LGD fournit une puce LED GaP verte dans un boîtier époxy vert. Caractéristiques des séries 234FRD, 234FYD et 234LGD: 1. Surface émettrice de lumière rectangulaire; 2. surface émettrice de haute stérance plate; 3.Idéal pour les indicateurs de panneau encastrés; 4.Idéal pour les légendes de contre-jour; 5. Longue durée de vie: fiabilité à l'état solide; 6. Compatible IC / exigences de courant faible; 7. LED de lumière visible. Il existe des types de formes de LED bleues pour votre choix, par exemple: LED bleue ronde supérieure de 3 mm, LED ronde supérieure traversante de 5 mm, LED SMD bleue 2835, LED bleue 5730, LED bleue rectangulaire avec une taille comme 2 * 3 * 4mm et 2 * 5 * 7mm ect. Vous pouvez choisir l'un d'entre eux pour votre conception. Les LED rectangulaires bleues sont largement utilisées pour différents types de produits électroniques ou pour l'indicateur LED, le rétroéclairage LED et fonctionnent également parfaitement pour votre projet de bricolage. Avez-vous besoin de LED ROUGE? Contactez-nous maintenant!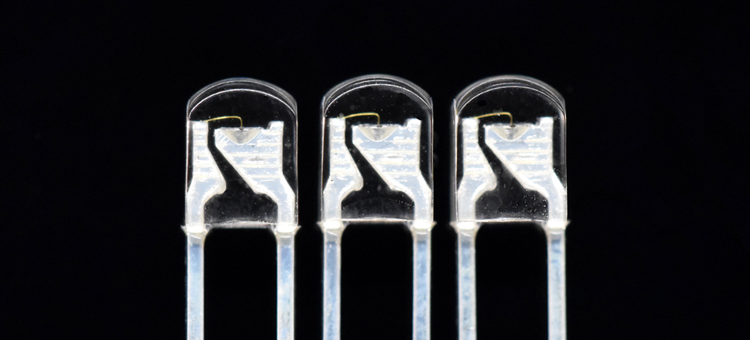 - Size: 2mm*3mm*4mm High

- Pin length: 17mm/19mm

- Color: Red LED


- Lens type: Red

- Chip brand:Epileds

- Different color are available

- Warranty: 5 Years

- Different wavelength are available

- RoHS, REACH, EN62471


- Uniform light output


- Low Power consumption

- Long life-solid state reliability

- Anti UV epoxy resin package

- High temperature resistance
- Paramètres de dimension -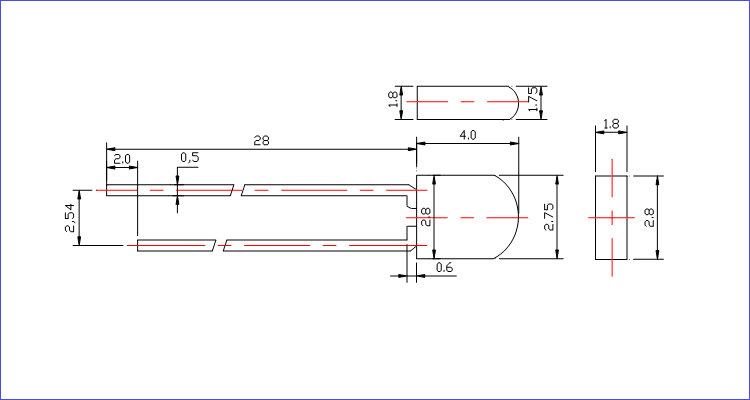 . Toutes les dimensions sont en millimètres ; 2. La tolérance est de ± 0,10 mm sauf indication contraire.
* Ce boîtier est également disponible pour LED UV, LED jaune, LED blanche, LED bleue traversante, LED rouge traversante, LED IR ect. *
- Émission de la couleur -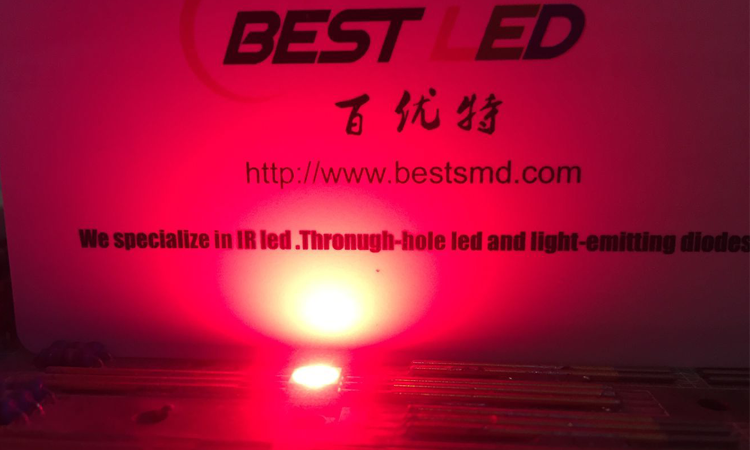 * Les couleurs de la photo ont été prises par l'appareil photo, veuillez prendre la couleur d'émission réelle en standard.
- Paramètres électriques -

Parameter

Symbol

Rating

Power Dissipation

Pd

120mw

Pulse Forward Current

IFP

100mA

Forward Current

IF

60mA

Reverse Voltage

VR

5V

Junction Temperature

Tj

115°C

Operating Tempertature

Topr

-40 - +80°C

Storage Tempertature

Tstg

-40 - +100°C

Soldering Temperature

Tsol

260°C

Electro-Static-Discharge(HBM)

ESD

3000v

Warranty

Time

5Years

Antistatic bag

Piece

1000Bag

*Pulse Forward Current Condition:Duty 1% and Pulse Width=10us.

*Soldering Condition:Soldering condition must be completed with 3 seconds at 260°C
Parameter

Symbol

Min

Typ

Max

Unit

Test Condition

Forward Voltage

VF

1.8

2.0

2.4

V

IF=20mA

Luminous Intensity

IV

2.5

3.5

lm

IF=20mA

5

8

IF=50mA

Peak Wavelength

λP

633

nm

IF=20mA

Dominant Wavelength

λd

620

625

630

nm

IF=20mA

Half Width

Dl

22

nm

IF=20mA

Viewing Half Angle

2q1/2

±60

deg

IF=20mA

Reverse Current

IR

5

uA

VR=5V

*Luminous Intensity is measured by ZWL600.

*2q1/2 is the off-axis angle at which the luminous intensity is half the axial luminous intensity.

*lD is derived from the CIE chromaticity diagram and represents the single wavelength which defines the color of the device.
- Connexion fil d'or -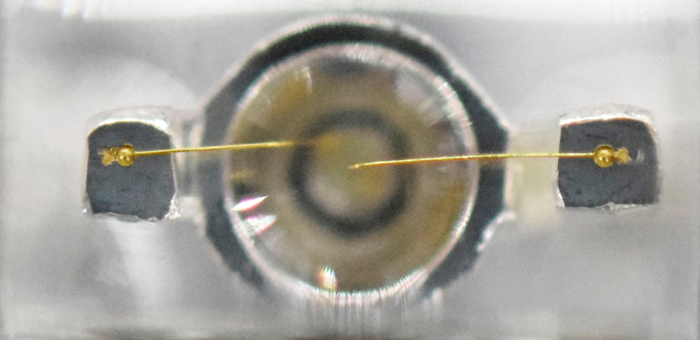 - Emballage -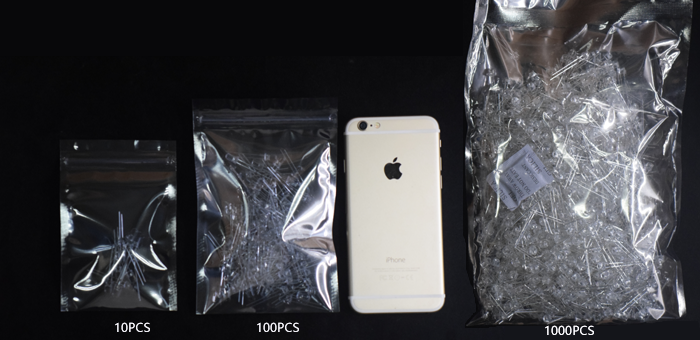 - Application -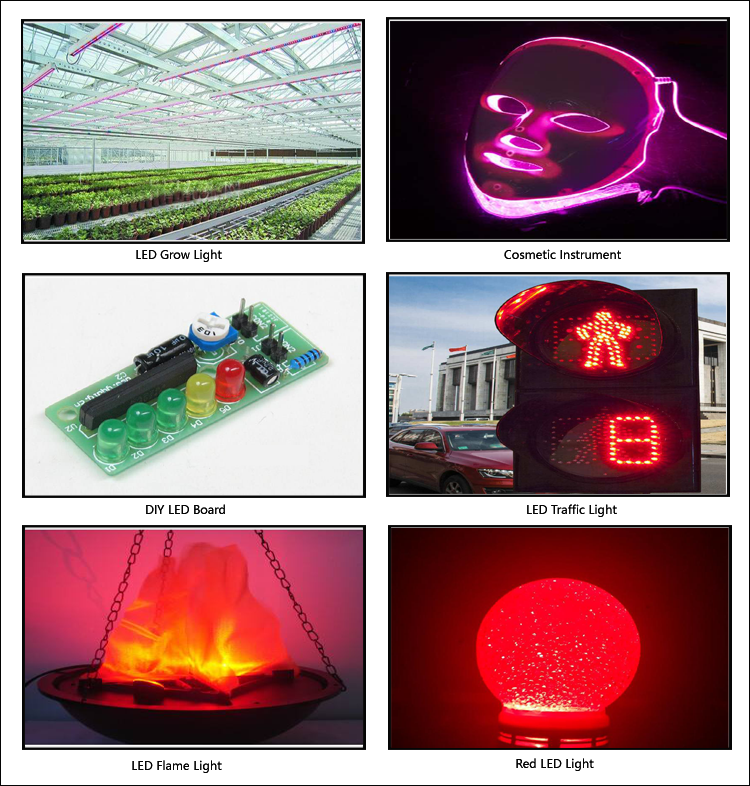 - Production -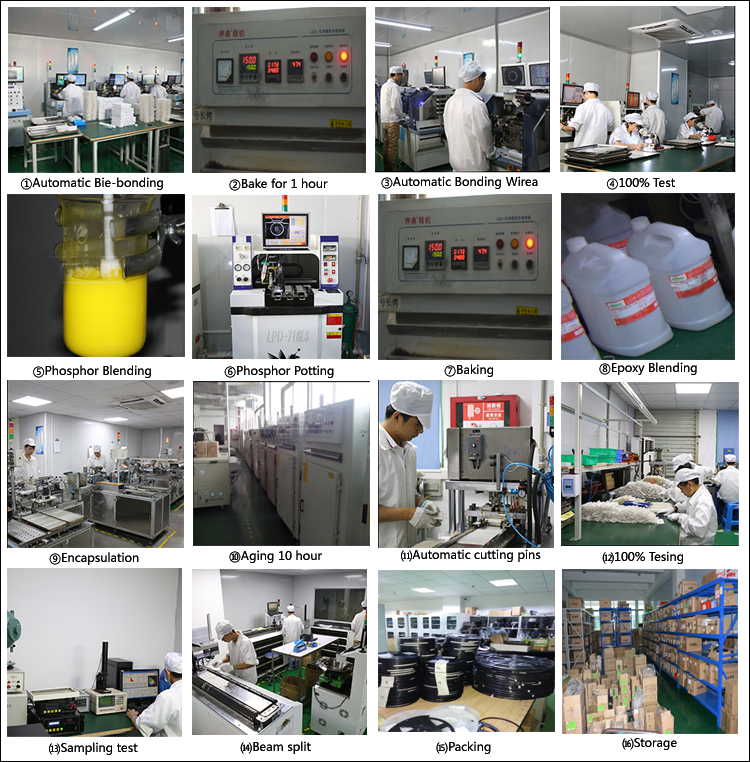 - Attention -