- LED rouge rectangulaire traversante -

6242FIRC62D3L14
Un dispositif semi-conducteur à semi-conducteur. Le cœur d'une LED est une plaquette semi-conductrice. Une extrémité de la tranche est fixée à un support, une extrémité est l'électrode négative et l'autre extrémité est connectée à l'électrode positive de l'alimentation. Également appelée puce électroluminescente LED, c'est le composant central de la lumière LED, également appelée jonction PN. Sa fonction principale est de convertir l'énergie électrique en énergie lumineuse, et le matériau principal de la puce est du silicium monocristallin. Une tranche de semi-conducteur se compose de deux parties, l'une est un semi-conducteur de type P, où les trous dominent, et l'autre extrémité est un semi-conducteur de type N, où les électrons sont principalement. Mais lorsque ces deux semi-conducteurs sont connectés, une jonction PN se forme entre eux. Lorsqu'un courant est appliqué à la tranche à travers un fil, les électrons sont poussés vers la région P, où les électrons et les trous se recombinent, puis l'énergie est émise sous forme de photons. C'est le principe de l'émission de lumière LED. La longueur d'onde de la lumière, qui est la couleur de la lumière, est déterminée par le matériau qui forme la jonction PN.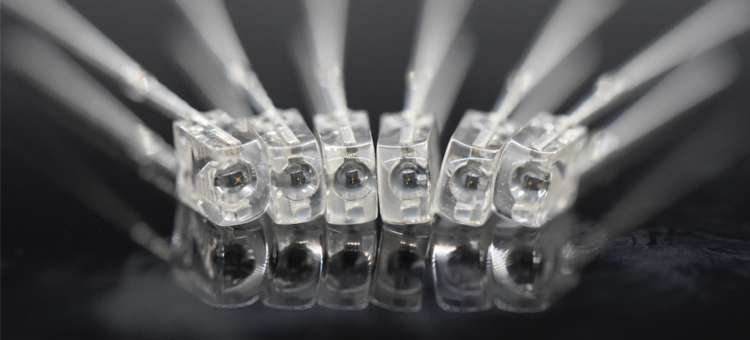 - Size: 2mm*3mm*4mmHigh

- Pin length: 17mm 19mm

- Color: Red LED


- Lens type: red

- Chip brand:Epileds

- Different color are available

- Warranty: 5 Years

- Different wavelength are available

- RoHS, REACH, EN62471


- Uniform light output


- Low Power consumption

- Long life-solid state reliability

- Anti UV epoxy resin package

- High temperature resistance
- Paramètres de dimension -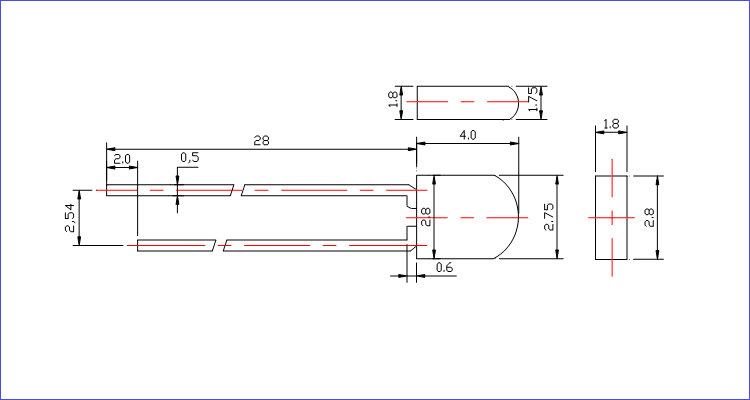 . Toutes les dimensions sont en millimètres ; 2. La tolérance est de ± 0,10 mm sauf indication contraire.
* Ce boîtier est également disponible pour LED UV, LED jaune, LED blanche, LED bleue traversante, LED rouge traversante, LED IR ect. *
- Émission de la couleur -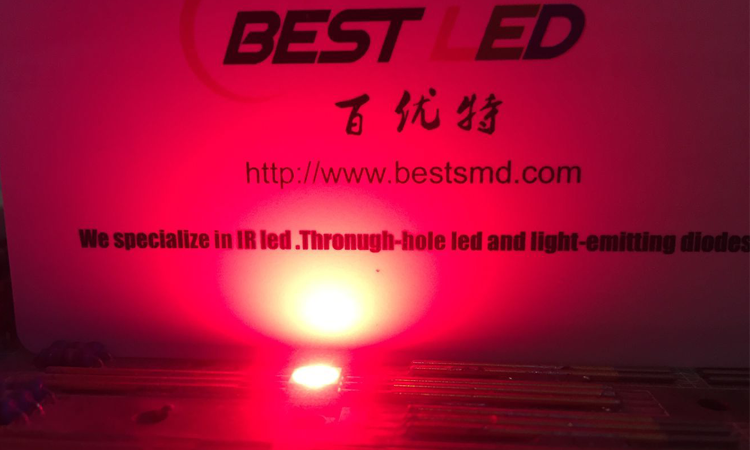 * Les couleurs de la photo ont été prises par l'appareil photo, veuillez prendre la couleur d'émission réelle en standard.
- Paramètres électriques -

Parameter

Symbol

Rating

Power Dissipation

Pd

105mw

Pulse Forward Current

IFP

100mA

Forward Current

IF

30mA

Reverse Voltage

VR

5V

Junction Temperature

Tj

115°C

Operating Tempertature

Topr

-40 - +80°C

Storage Tempertature

Tstg

-40 - +100°C

Soldering Temperature

Tsol

260°C

Electro-Static-Discharge(HBM)

ESD

1000v

Warranty

Time

5Years

Antistatic bag

Piece

1000Bag

*Pulse Forward Current Condition:Duty 1% and Pulse Width=10us.

*Soldering Condition:Soldering condition must be completed with 3 seconds at 260°C
Parameter

Symbol

Min

Typ

Max

Unit

Test Condition

Forward Voltage

VF

1.8

2.0

V

IF=20mA

2.0

2.2

2.2

2.4

Luminous Intensity

IV

800

1100

mcd

IF=20mA

Peak Wavelength

λP

633

nm

IF=20mA

Dominant Wavelength

λd

620

625

630

nm

IF=20mA

Half Width

Dl

18

nm

IF=20mA

Viewing Half Angle

2q1/2

±60

deg

IF=20mA

Reverse Current

IR

5

uA

VR=5V

*Luminous Intensity is measured by ZWL600.

*2q1/2 is the off-axis angle at which the luminous intensity is half the axial luminous intensity.

*lD is derived from the CIE chromaticity diagram and represents the single wavelength which defines the color of the device.
- Connexion fil d'or -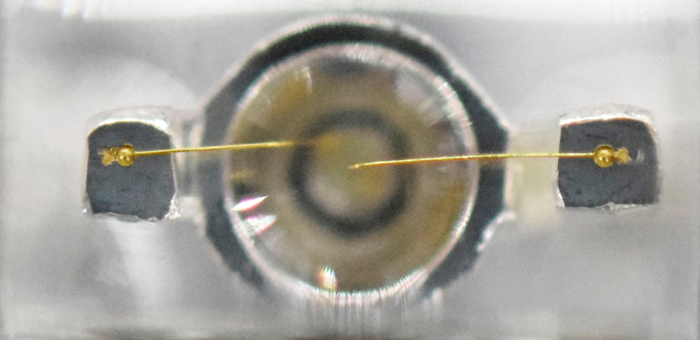 - Emballage -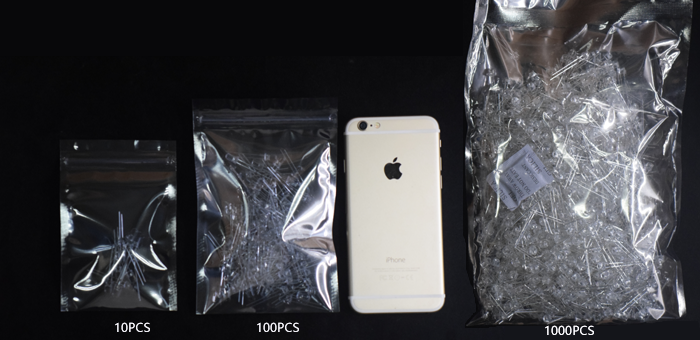 - Application -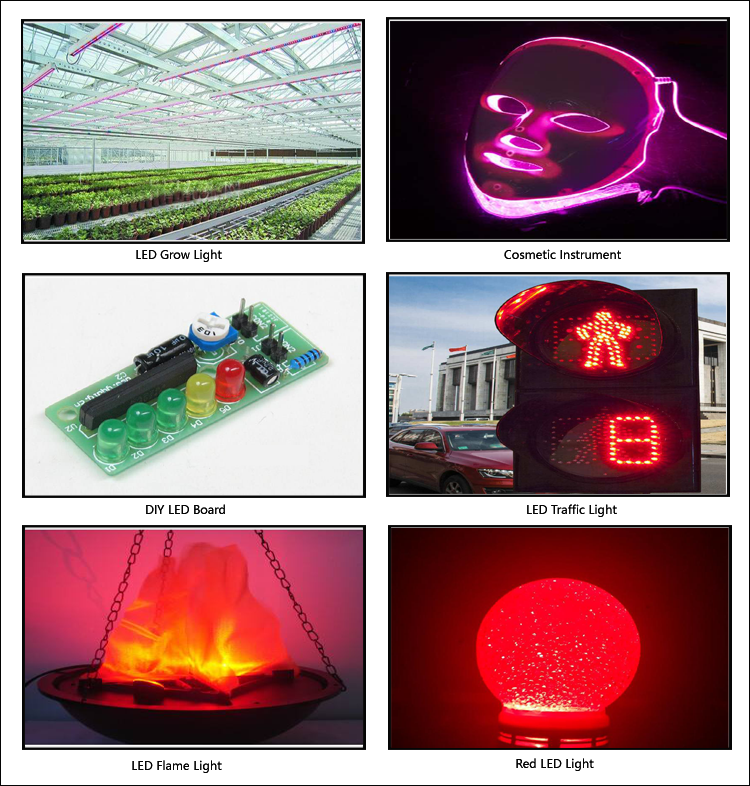 - LED Rectangle associée -
- Production -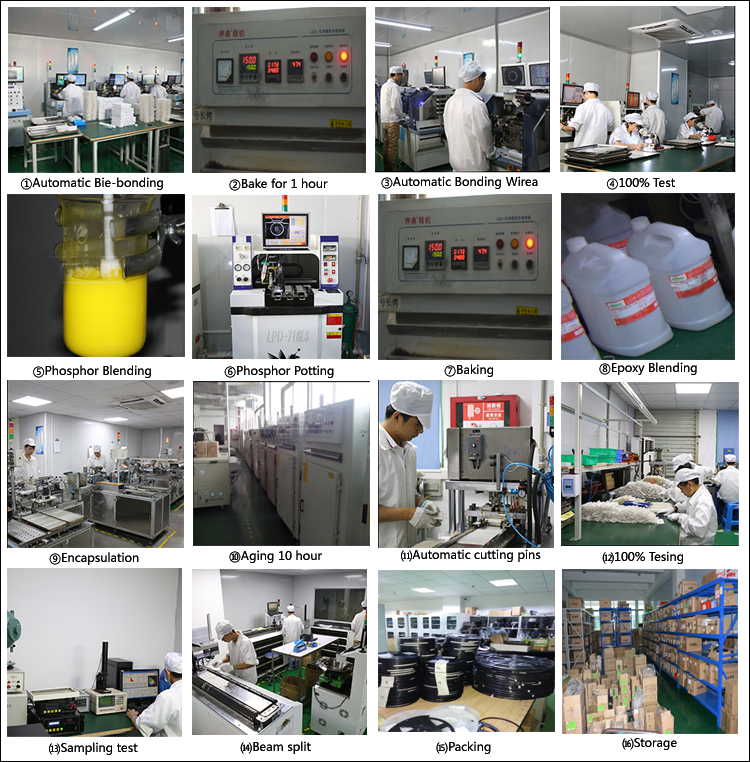 - Attention -