- 2835 LED verte CMS -

2835LGC52D28-22
Les LED SMD vertes 520-525nm sont les LED les plus populaires en LED verte. Qui peut être utilisé dans des types de projets tels que: indicateur LED, rétro-éclairage LED, éclairage décoratif LED. Comme nous pouvons le voir sur la photo, il y a deux puces à l'intérieur de la LED SMD. Chacune des puces LED peut gérer plus de 0,2 W de sortie. Ensuite, pour cette LED SMD verte 2 puces 2835, elle peut gérer 150mA lorsqu'elle fonctionne. Et c'est une tension directe de 3.2-3.4V à 100-150mA et l'angle de vision est le même avec toutes les LED SMD. Si vous avez vraiment besoin d'une LED verte super brillante pour votre projet, celle-ci ne vous laissera pas déçu. Contactez-nous dès maintenant pour plus de détails sur cette LED verte de 0,5W.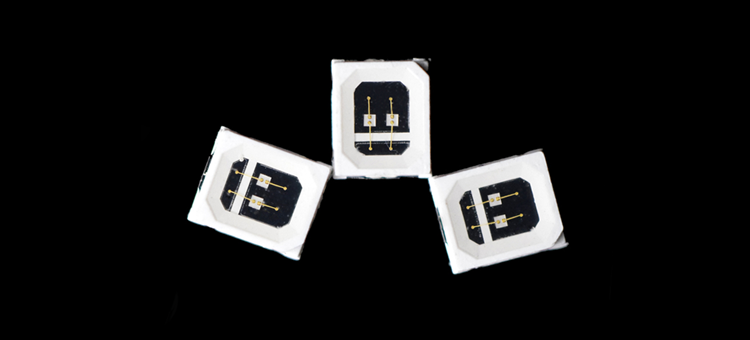 - Size: 2.8*3.5*0.8mm

- Chip Number:305um

- Color: Green

- Type: Surface mount device

- Chip brand: Epistar

- Polarity Mark


- Different color are available

- Different wavelength are available

- Warranty: 5 Years


- RoHS, REACH, EN62471


- Uniform light output

- Long life-solid state reliability

- Low Power consumption


-Anti UV epoxy resin package


-High temperature resistance
-Paramètres dedimension-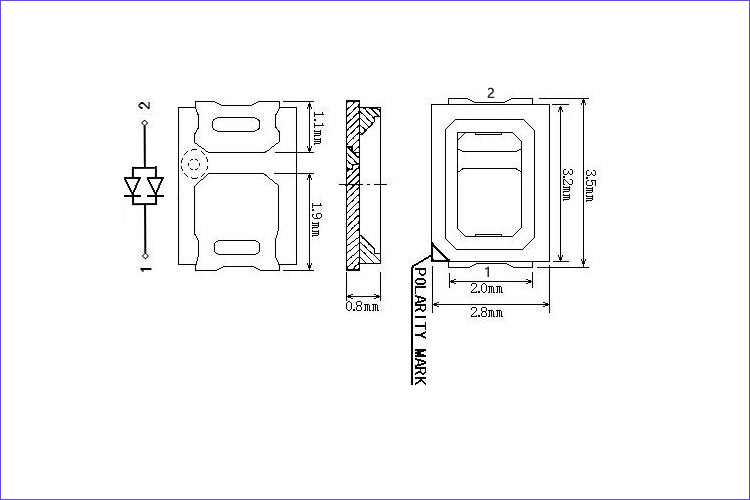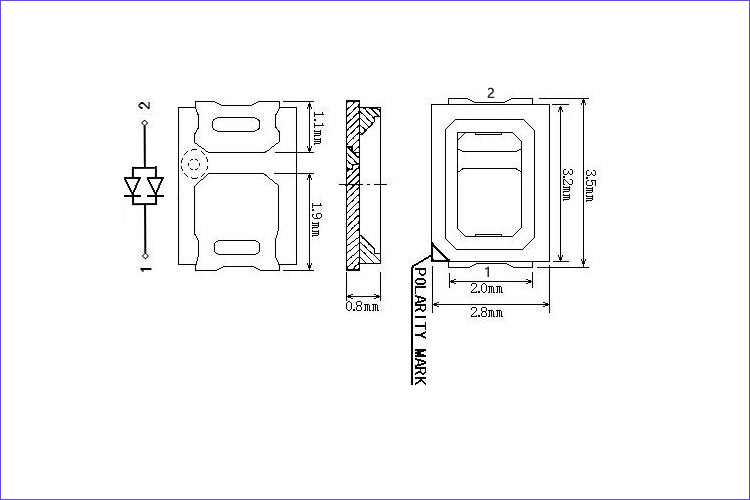 Ces boîtiers LED SMD sont également disponibles pour LED IR, LED UV, LED SMD bleue, LED SMD rouge, LED ambre ect.
- Émission de la couleur -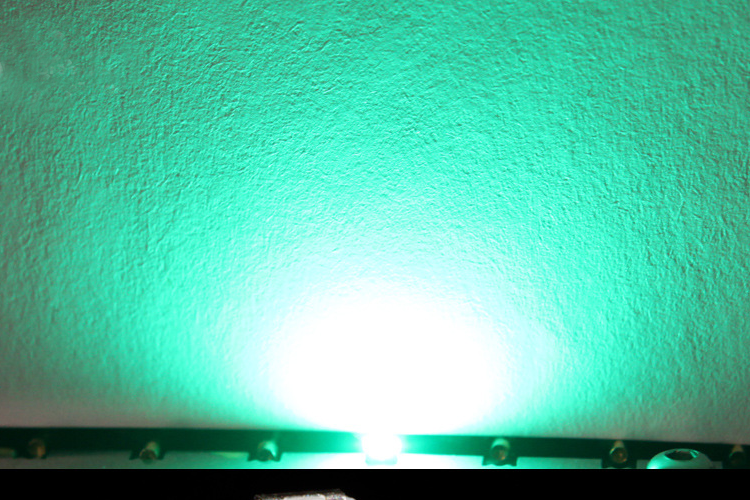 * Les couleurs de la photo ont été prises par l'appareil photo, veuillez prendre la couleur d'émission réelle en standard.
- Paramètres électriques -

Parameter

Symbol

Rating

Power Dissipation

Pd

500mw

Pulse Forward Current

IFP

500mA

Forward Current

IF

150mA

Reverse Voltage

VR

5V

Junction Temperature

Tj

115°C

Operating Tempertature

Topr

-40 - +80°C

Storage Tempertature

Tstg

-40 - +100°C

Soldering Temperature

Tsol

260°C

Electro-Static-Discharge(HBM)

ESD

1000v

Warranty

Time

5Years

Antistatic bag

Piece

4000Bag

*Pulse Forward Current Condition:Duty 1% and Pulse Width=10us.

*Soldering Condition:Soldering condition must be completed with 3 seconds at 260°C
Parameter

Symbol

Min

Typ

Max

Unit

Test Condition

Forward Voltage

VF

2.8

3.2

3.4

V

IF=150mA

Luminous Intensity

IV

35

50

lm

IF=150mA

Peak Wavelength

λP

525

nm

IF=150mA

Dominant Wavelength

λd

520

525

530

nm

IF=150mA

Half Width

Dl

18

nm

IF=150mA

Viewing Half Angle

2q1/2

±60

deg

IF=150mA

Reverse Current

IR

5

uA

VR=5V

*Luminous Intensity is measured by ZWL600.

*2q1/2 is the off-axis angle at which the luminous intensity is half the axial luminous intensity.

*lD is derived from the CIE chromaticity diagram and represents the single wavelength which defines the color of the device.
- Connexion fil doré -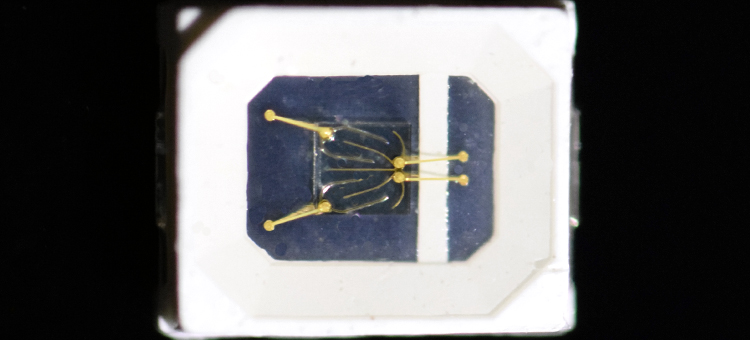 * Afin de conserver la longue durée de vie de chacune des LED, l'usine BestLED utilise un fil d'or pur pour la connexion du circuit intérieur
- Emballage -

* Nous l'emballons avec un emballage sous vide après l'avoir scotché comme une bobine
- Application -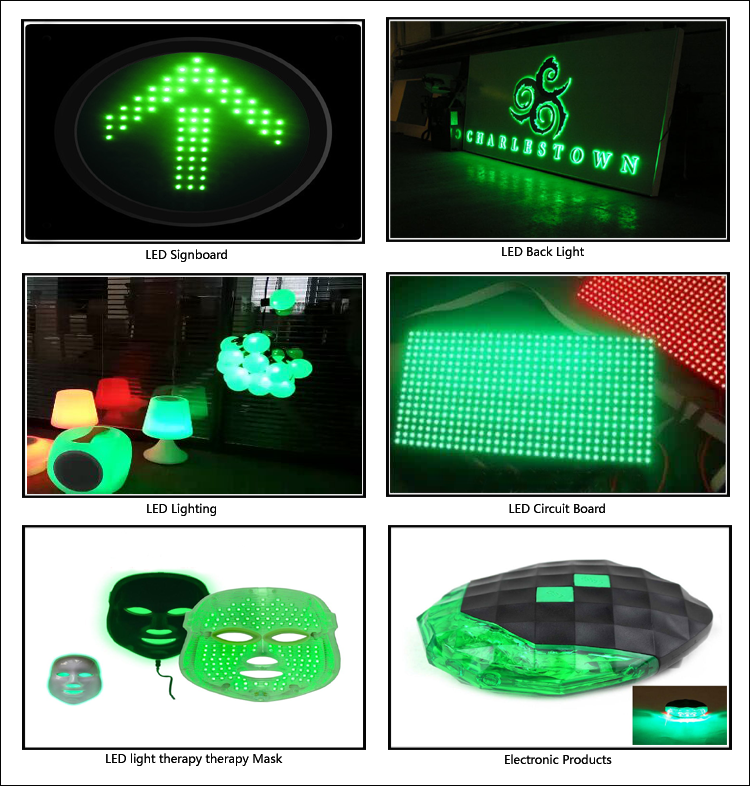 - LED associée -
- Production -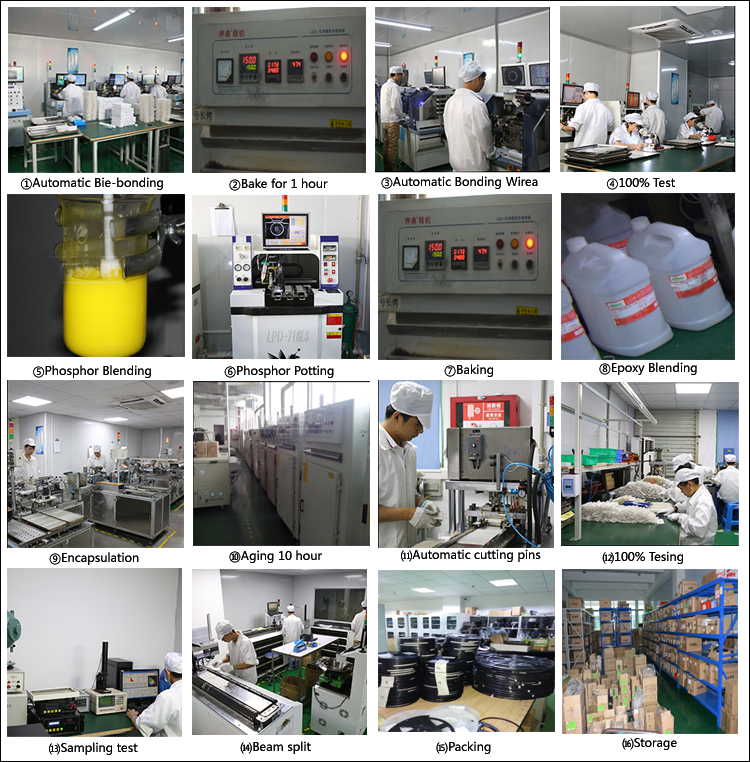 - Utilisation de LED SMD d'attention-