- LED 770 nm -
503FIRC-77L / 14I100-45A
Avez-vous besoin de LED infrarouges 770 nm pour votre projet? Contactez-nous pour plus de détails, celui-ci ne vous laissera pas déception ~ DIP LED (boîtier double en ligne) également appelé LED traversant car il y a deux fils au bas de la LED pour la connexion du circuit. Les LED infrarouges 770 nm sont largement utilisées dans la thérapie infrarouge médicale et dans certaines industries de la beauté. Des LED IR à couleur unique de 5 mm 770 nm sont disponibles dans la meilleure usine de LED. Ces LED IR 770 nm étaient emballées dans un boîtier à LED traversant de 5 mm avec une lentille époxy transparente et un fil doré de haute pureté à l'intérieur pour la connexion. Avec cette matière première de haute qualité, cette LED IR aura une fiabilité à l'état solide plus longue durée de vie et une faible consommation d'énergie. Comme nous le savons, il y aura des types d'angle de vue sur la LED traversante à choisir. Comme dans ce cas, ces LED IR 770nm ont un angle de vue de 45 degrés, si vous en avez besoin pour un autre angle de vue, n'hésitez pas à nous contacter afin que nous puissions le produire selon vos besoins.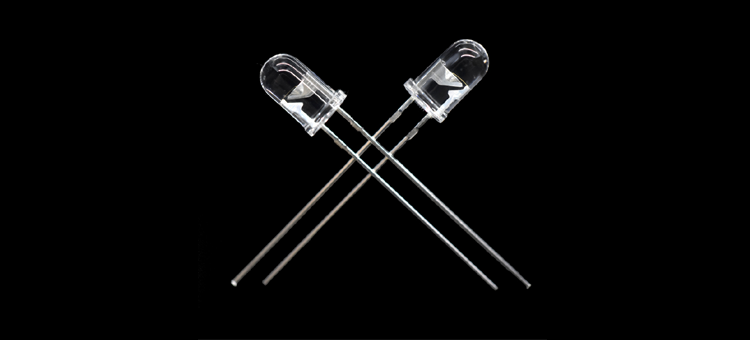 - Size: 5.0*H8.7mm

- Chip Number:1 chip

- Color: 770nm LED

- Type: water clear

- Chip brand: Tyntek

- Different color are available

- Different wavelength are available

- Warranty: 5 Years


- RoHS, REACH, EN62471


- Uniform light output

- Long life-solid state reliability

- Low Power consumption


-Anti UV epoxy resin package


-High temperature resistance
- Taille de la LED traversante de 5 mm -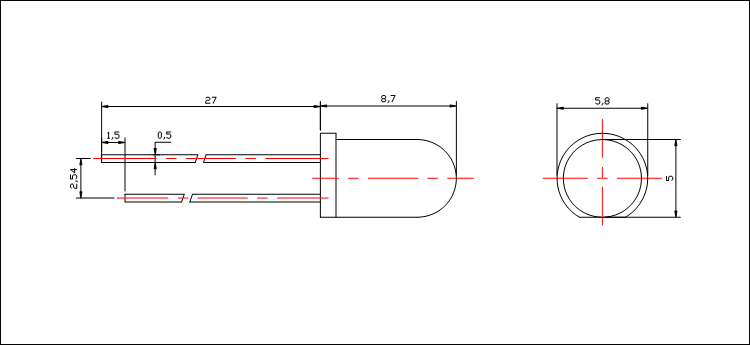 * La broche courte est la cathode.
*1. Toutes les dimensions sont en millimètres ; 2. La tolérance est de ± 0,10 mm sauf indication contraire.
Nous avons également emballé des LED 365nm, 940nm LED, 850nm LED, LED rouge traversant,
LED bleue traversante, LED verte traversante, LED IR avec lentille transparente de 5 mm.
- Radiant LED traversant -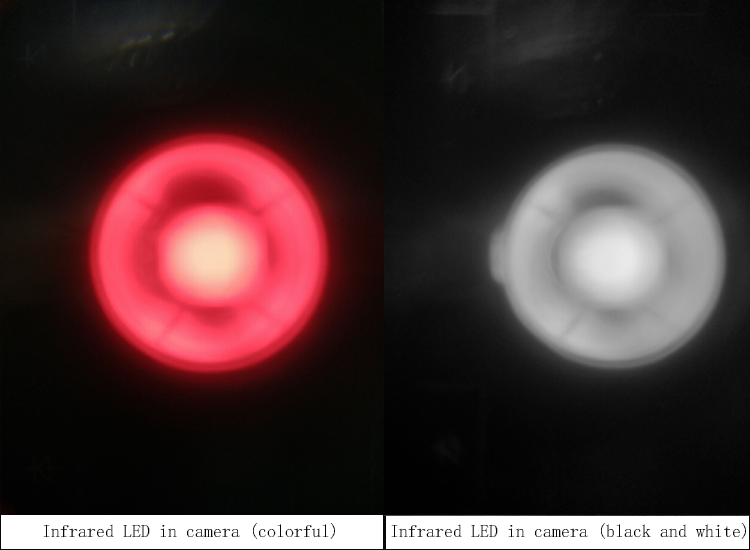 * Les couleurs de la photo ont été prises par l'appareil photo, veuillez prendre la couleur d'émission réelle en standard.
- Paramètres électriques -

Valeurs maximales absolues à Ta = 25 ℃
Parameter

Symbol

Rating

Power Dissipation

Pd

200mw

Pulse Forward Current

IFP

300mA

Forward Current

IF

100mA

Reverse Voltage

VR

5V

Junction Temperature

Tj

115°C

Operating Temperature

Topr

-40 - +80°C

Storage Temperature

Tstg

-40 - +100°C

Soldering Temperature

Tsol

260°C

Electro-Static-Discharge(HBM)

ESD

3000v

Warranty

Time

5 Years

Anti-static bag

Piece

1000Back

1000pcs weight

Bag

0.31g

*Pulse Forward Current Condition:Duty 1% and Pulse Width=10us.

*Soldering Condition:Soldering condition must be completed with 3 seconds at 260°C
Caractéristiques optiques et électriques ( T c = 25 ℃ )
Parameter

Symbol

Min

Typ

Max

Unit

Test Condition

Forward Voltage

VF

1.5

1.6

1.8

V

IF=20mA

1.7

1.8

2.1

V

IF=60mA

2.0

2.3

2.5

V

IF=100mA

Luminous Flux

Φ

0.04

lm

IF=20mA

0.1

lm

IF=60mA

0.15

lm

IF=100mA

Luminous Power

PO

15

25

mw

IF=20mA

45

55

mw

IF=60mA

70

90

mw

IF=100mA

Peak Wavelength

λP

760

770

780

nm

IF=20mA

Half Width

Dl

17

nm

IF=20mA

Viewing Half Angle

2q1/2

±22

deg

IF=20mA

Reverse Current

IR

5

uA

VR=5V

*Luminous Intensity is measured by ZWL600.

*q1/2 is the off-axis angle at which the luminous intensity is half the axial luminous intensity.

*lD is derived from the CIE chromaticity diagram and represents the single wavelength which defines the color of the device.
- Connexion fil d'or -

* Afin de conserver chacune des longues durées de vie des LED, l'usine BestLED utilise un fil d'or pur élevé pour la connexion du circuit intérieur

- Emballage LED -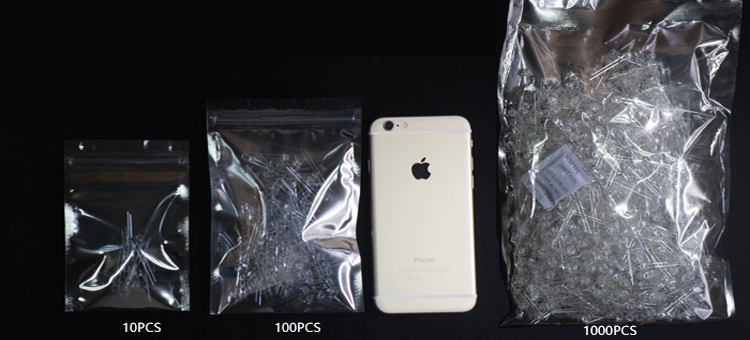 * Nous pouvons emballer cette LED avec n'importe quel nombre de paquets et enregistrer ou plier les broches LED selon vos besoins.
- LED IR associée -

- Processus de production -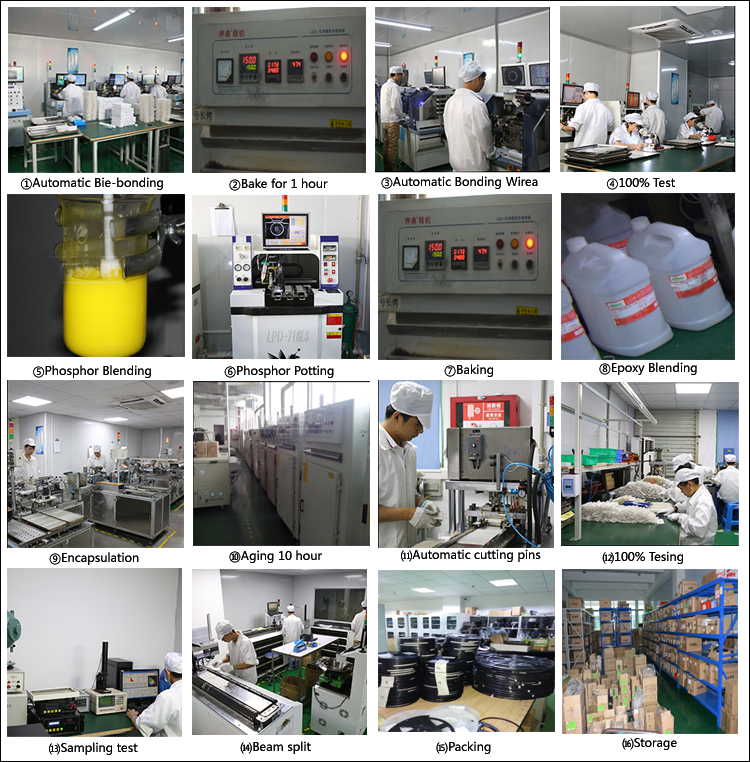 - LED IR à trous traversants -